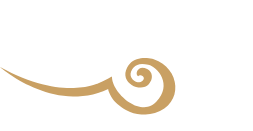 Ko-wn was named after the bright cloud
which block off the sun light -like a Sugegasa.
We only use carefully selected materials to
create the finest Sugegasas with solid techniques.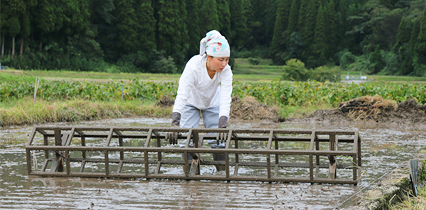 PLANTING
The process to create the fine Sugegasas starts with planting Suge.
We plant them in fall, they sprout in spring.
They grow taller than us by July.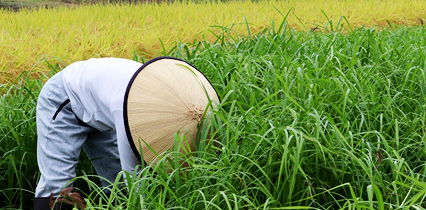 MOWING
Mow Suge in July.
Dry them in the sun. Eventually color fades away.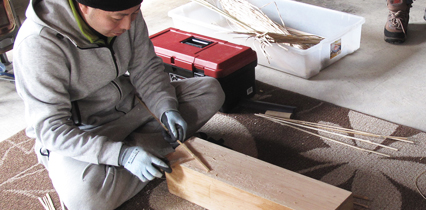 MAKE FRAMES
Sugegasa's frames are made of bamboo.
They are made by hand work with traditional techniques.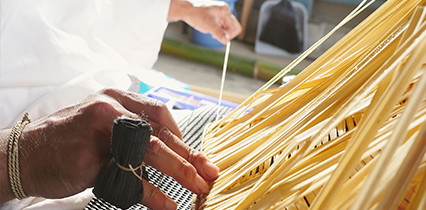 SEWING
Attach Suge strips around the frames (which is very complicated process).
Then sew Suge to the frames stitch by stitch.
Artist

Ko-wn Nakayama
Background

2015.06 Begun an apprenticeship into the way of inheritor.
2018.03 Certified as a Skilled Sugegasa maker of Ecchu Takaoka.
Award

2017.03 Rookie of the Year @Annual Sugegasa Competition (the 3rd) :Koyuki
2017.09 Encouragement Prize @Takaoka Craft Competition 2017 :Roppou
2018.06 Won a prize @Art Exhibition of Takaoka City (the 24th) :Heisei no Mikurumayama
2018.09 Area award @Takaoka Craft Competition 2018 :Sugehimo

デンサン
【Den-san】
This is the classical Sugegasa called "Tsuno-gasa" (High V shaped ones are called "Tateyama", low V shaped ones are called "Asayama"). Generally used by farmers. The smallest size is 39cm and size varies every 3cm.
BUY

六方
【Roppou】
Ko-wn's original Sugegasa. This is the first Hexagon Sugegasa ever made. Top crown of Roppou is also Hexagon shaped, arranged in mutually shifted angles.
BUY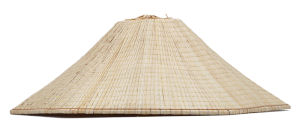 平成の御車山
【Heisei no Mikurumayama】
Ko-wn's original Sugegasa. This is one of the flat Sugegasas called "Ichimonji-gasa". "Heisei no Mikurumayama" is the first Octagon shaped "Ichimonji-gasa".
購入する


菅畳
【Sugadatami】
Sugadatami are Suge rugs, are handwoven on traditional vertical looms, following age old Japanese Mushiro weaving techniques. They are naturally durable, have a comfortable feel underfoot. We hope our rugs will add a fresh spirit to your living.
BUY
菅布
【Sugabu】
Sugabu is a handwoven cloth, can be made to bespoke sizes to any size you require. Sugabu coasters, placemats, table runners are sure to bring a personality, unique touch to home décor during any season.
Learn more (Japanese)

Factory Tour
Want to know how Sugegasas are made? Factory tours are available to companies, organizations and schools, as well as the general public.
Reservations are required. To make reservations, please use the contact form below.
*Your reservation will be confirmed with a contact from us.

Contact us